The First Midland | Changing Times | The New Hotel | Works of Art
The Golden Age | The War Years | Post War Decline



During the latter part of the 19th century and into the third decade of the 20th, Morecambe grew and prospered as a holiday resort, its development interrupted only by the First World War. As the 1920s drew to a close it was apparent that the old Midland Hotel had become inadequate for the changing times. The Depression meant that many once well-to-do people were no longer able to afford foreign holidays and this brought a new wave of custom to the English seaside, one with more sophisticated demands. However, facilities in England compared poorly with those on the continent and there was an urgent need for the upgrading of accommodation for visitors.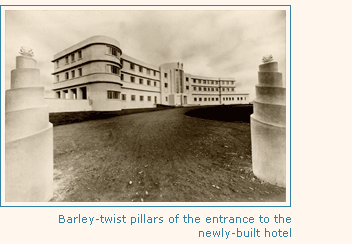 The London, Midland and Scottish Railway Company was now responsible for the Midland Hotel and decided to replace the existing Victorian building with a more modern structure. In January 1932 it approved plans for a new hotel to be built on the seafront at a cost of just under £72, 000.


The LMS saw Morecambe as an opportunity to make a new departure from traditional hotel design and selected the architect Oliver Hill to provide the company with "a building of international quality in the modern style". Work commenced in August 1932, the new building rising from the lawn in front of the old hotel before the latter was eventually demolished some months later.
In some ways Oliver Hill was not the obvious choice for the project. He had been trained in the 'Arts and Crafts' tradition and had only recently been converted to 'modernism'. Moreover, he had no previous experience of hotel construction.

Nevertheless, he readily accepted the commission from the LMS observing "you have here a unique opportunity of building the first really modern hotel in the country." Hill realised that the new hotel would give him a chance to put into practice his vision of unity in architecture and decoration.

As well as designing buildings, Hill took a keen interest in furniture, décor, upholstery and costumes. He had also gained a reputation for his extravagant interiors using such materials as glass, chromium, vitrolite, marble and exotic woods.


What made the Midland Hotel different from other hotels was Hill's holistic approach to the project. He believed that the exterior design should be intimately linked to the interior décor and to this end he took complete control of the hotel's colour scheme, works of art, decoration and furnishings - even down to the colour of the hand towels and the shape of the door handles! These he saw as counterpoints to the austerity of modern architecture, providing points of visual interest.