The First Midland | Changing Times | The New Hotel | Works of Art
The Golden Age | The War Years | Post War Decline



Hill commissioned the renowned sculptor and engraver Eric Gill to carve two seahorses for the outside of the building. These surmount the staircase tower and, although recognisable as seahorses, also seem to have a touch of the famous Morecambe Bay shrimp about them! Inside the building he carved a circular medallion in the ceiling overlooking the staircase. It shows a sea god being attended by mermaids and is edged with the words "And hear old Triton blow his wreathed horn". Gill also designed an incised relief map of the Lake District and the Lancashire coast for a wall of the South Room.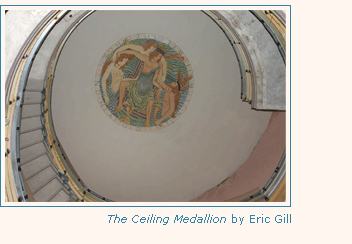 However, his greatest work was the huge bas-relief for the hotel's entrance lounge entitled "Odysseus welcomed from the sea by Nausicaa". Carved into six tonnes of Portland stone and measuring approximately 5m by 3m, it depicts a naked Odysseus stepping from the waves being greeted by Nausicaa and three handmaidens bearing food, drink and clothing - a scene meant to symbolise the hospitality being offered to guests by the hotelier. Gill's original design for the relief was called "High Jinks in Paradise" but its cavorting naked youths and maidens proved a bit too risque for the LMS who asked him to submit a less explicit composition!


The interior of the rotunda café at the north end of the hotel was painted by another well-known artist of the time, Eric Ravilious. As the café was originally intended for the use of casual visitors to the beach its walls were painted with seaside themes by day and night. Unfortunately, due to insufficient preparatory work, the surface began to peel off almost immediately and the wall was painted over completely two years later. In 1989 the mural was reconstructed for an episode of the TV detective series "Agatha Christie's Poirot" which was partly set in Morecambe.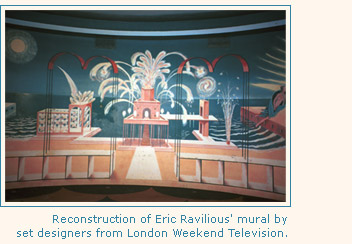 The furnishings of the hotel received equal care and attention, most notable being the exquisite hand-knotted rugs for the entrance lounge made by the textile designer Marion Dorn. Nearly five metres in diameter they featured a directional pattern of waves - an allusion to the Midland's seaside location. Dorn was also responsible for the design of the mosaic seahorse set in floor of the entrance lounge, a motif picked up on the staircase banister rail and used on hotel crockery and table linen.