The First Midland | Changing Times | The New Hotel | Works of Art
The Golden Age | The War Years | Post War Decline



When the present Midland Hotel opened in 1933 it took the place of an earlier hotel, also called the Midland, which had occupied the site since 1848.

By the 1840s, Morecambe was beginning to evolve from the old fishing village of Poulton-le-Sands into an embryonic holiday resort. The fishermen's cottages and small boarding houses were becoming insufficient to cope with the influx of visitors and there arose a need for purpose-built hotels.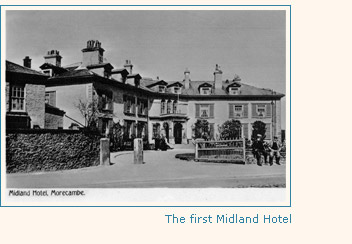 In 1846 the 'Little' North Western Railway purchased land to the west of Poulton for the development of a port. The company also obtained permission to build a hotel as part of its scheme to construct a railway linking the new port with Yorkshire.

The hotel was designed by Edward Paley, a local architect and cost the grand sum of £4,795 including furnishings. It was a two-storey building of grey stone with green shuttered windows and contained forty bedrooms. For a Victorian building, it had a distinctly Georgian look.


Known initially as the North Western Hotel (its name was changed in 1871 when the Midland Railway took over the 'Little' North Western Railway) it stood in its own spacious grounds and catered for a clientele referred to as the 'carriage trade'. Although the more wealthy families might arrive by train, they would invariably be met at the station by their own horse-drawn vehicles laden with luggage and would then drive the short distance to the hotel entrance.


How peaceful a stay the guests enjoyed is a matter for conjecture. The main railway line to the harbour passed right next to the hotel and for the last thirty years of its existence they had to put up with the noise generated by the neighbouring ship-breakers yard of T.W. Ward.